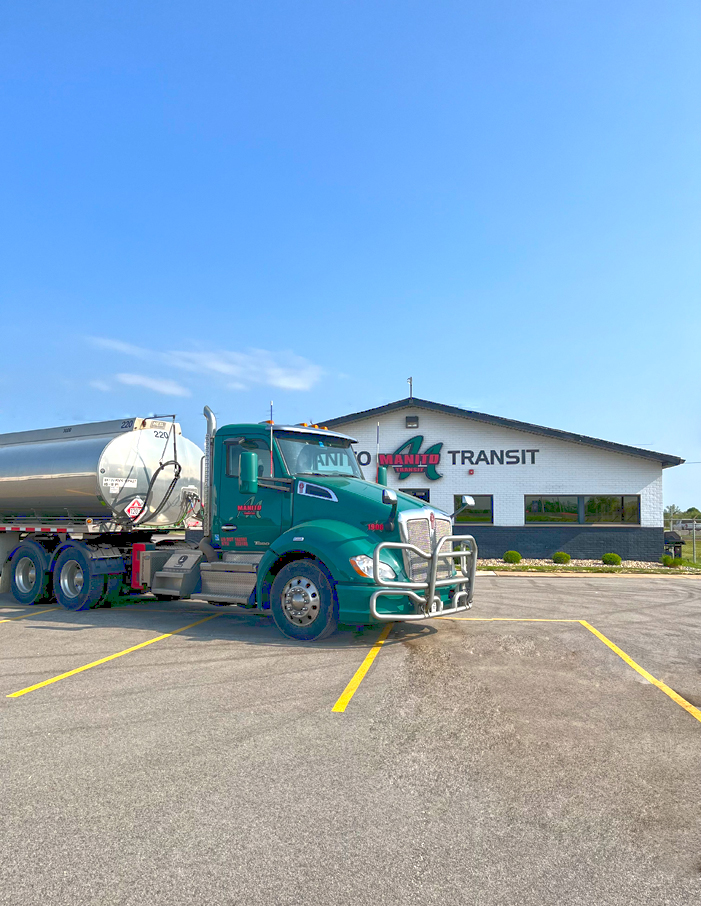 About
Manito Transit
Manito Transit specializes in the SAFE and dedicated transport of refined & renewable fuels, lube oil, chemicals, grain and fertilizer
Mission:
To be recognized in the trucking industry as a carrier that differentiates its service to delight its customers.
Locations in:
Illinois: Ashkum, Bloomington, Bluff Springs, Champaign, Decatur, Gridley, Lena, Pontiac, and Yorkville
Iowa: Clarinda, Council Bluffs, Des Moines, Ft. Dodge and the Quad Cities
Wisconsin: Green Bay, Madison, Milwaukee and Sparta
Our Driver/Salesmen build relationships through customer service, inventory management and on-time delivery
Offering 24 hour a day, 7 day a week delivery service to help us meet your specific needs
Manito places a premium on providing safe dependable transport services
Servicing Illinois, Indiana, Iowa, Kansas, Minnesota, Missouri, Nebraska, North Dakota, Ohio, South Dakota, and Wisconsin
Our service is the difference!
At Manito Transit we go beyond our customers expectations, this is not just a philosophy, its our way of doing business!

Manito is currently providing the follow product services:
Petroleum
Our dedicated team of drivers and dispatchers are available to process your orders 7 days a week.
Agriculture Hauling
We have a unique understanding of agricultural markets and your need for safe, secure delivery of grain, fertilizer and chemicals.
Commercial
Our transportation of warehoused products provides businesses with the supplies they need to move ahead of the competition.
Industrial
Manito Transit will help you maintain your supply of all the lubricants required for your commercial and industrial applications.
Our Dispatch Team
Dispatch is key to the success of any carrier focused on service and efficiency; it is the nerve center of Manito Transit. Our experienced, courteous and knowledgeable dispatch team is ready to take calls and fulfill our customers' requests with 24/7 coverage.
Our dispatchers also work closely with our drivers helping to ensure the most efficient routing to meet our customers' needs.